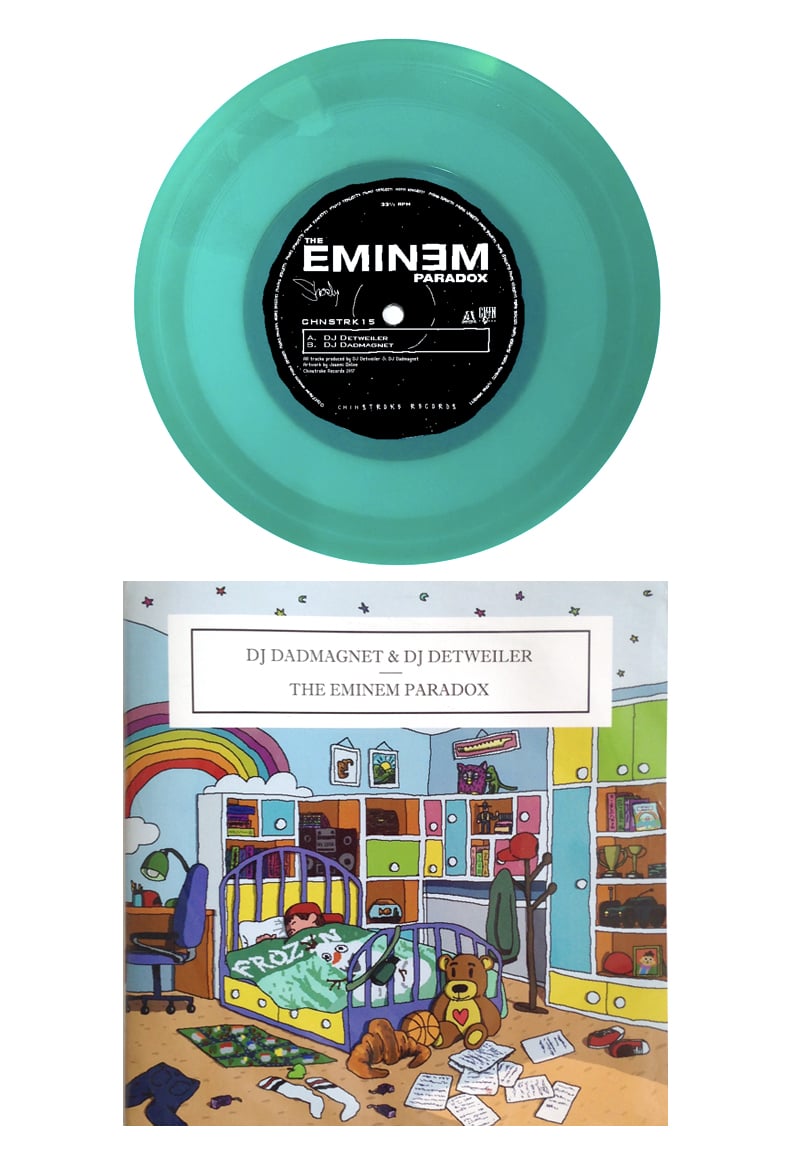 Dj Detweiler & Dj Dadmagnet - The Eminem Paradox 7"
DJs Detweiler and Dadmagnet have become household names in the digital trendsetting community. Having pioneered both the #flutedrop sound and rock-critiques of masculinity, DJs Detweiler and Dadmagnet are at the forefront of a bold push towards new artistic extremes. Together they have released four sellout records, "Flutedrop", "Emotional Flutes", "Chinscape" and "Power Tool Ballads". They have released music from DJ Bus Replacement Service and DJ Stretchmark, as well as publishing a book by Henry Collins (the artist also known as Shitmat).
Between them they have travelled the world, performing at venues as diverse as Austria's ARS Electronica, Sonar Festival, Elevate, Bangface and Dommune TV in Japan. They have toured extensively, playing more than 70 shows in Europe, North America and Asia, racking up millions of Soundcloud plays and touching the lives of thousands in the process.
But now, four years after their latest releases, the founders of Chin Stroke Records have returned with their most ambitious work yet.
Their long-awaited 7-inch "The Eminem Paradox" is out now, a groundbreaking and surprising collaboration between two very different yet interconnected creative minds. Surpassing all that they have achieved so far, The Eminem Paradox is a work that challenges what music is and can be – occupying a space both distinct and yet symbiotically related to their impressive back-catalogue.
Spanish Artist MS Paint Legend Josemi Te lo Pinta , who previously worked on Dj Detweiler's CHNSTRK005 Emotional Flutes EP , has done another amazing Artwork for The Eminem Paradox.
DJ Detweiler and Dadmagnet's latest 7-inch, "The Eminem Paradox" is limited to 150 copies. Available for preorder now, from Chin Stroke Records' Big Cartel; Shipping will start on October the 2nd.
DISCOGS LINK
https://www.discogs.com/release/12540601
DJ Detweiler & Dj Dadmagnet are on tour in the UK starting this Thursday in Sheffield,
there will be some copies of The Eminem Paradox to sell at the shows:
20-Sept @ Sheffield / Masturbatrix
http://bit.ly/CHNSTRKSheffield
21-Sept @ Newcastle upon tyne
http://bit.ly/CHNSTRKnewcastle
22-Sept @ Liverpool at DROP The Dumbulls Gallery
http://bit.ly/CHNSTRKliverpool
27-Sept @ London at STYX
http://bit.ly/CHNSTKlondon
29-Sept @ Bristol at Jack of Diamonds
http://bit.ly/CHNSTRKbristol1
30-Sept @ Bristol Afternoon Sunday BDAY bash
http://bit.ly/CHNSTRKbristol2
<3
Chin Stroke Records